TOP
 > Commitment to Quality



In2000, GEX obtained ISO9001 certification. GEX was the first firm who received ISO certificatein Japan Pet Industry.
In addition LTI, GEX's production base in Indonesia, also received ISO9002 certification in 1999 and updated it to ISO9001/2000 in 2003.
We have implemented thorough quality control throughout the entire process of production from design and molding to assembly and have established a solid supply system that achieves the stable provision of high quality products.
*ISO: An international quality management standards.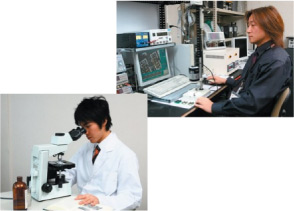 Quality managing system conducted by professional staff.
Gex quality management team consists of six professional staff for quality contorol where each specializes in fields including electrics, metals and glass, and four members to collect and analyze data for quality management.
Regardless of the origin of our items, technical guidance and quality inspections are all based on Japanese laws, rules and GEX rigorous quality standards.
Our quality management staff not only inspects pre-delivery items, but also regulary checks the supplier's production line and will implement any necessary measures that should be taken to ensure safety and satisfying quality of our products.
GEX will continue to pursue and provide the highest quality by following guidelines of ISO9001 regulations, prestigious for its quality management system.